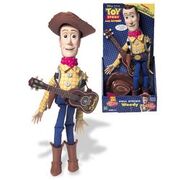 Toy Story and Beyond Woody is the second accurate Woody doll created in Toy Story toyline history after toy story collection other than the hat being plastic and the chest being over stuffed.
Pull string to hear phrases like "Howdy partner" "My names Woody" and "Ye haw cowboy"
With a hat that comes off.
comes with strummable guitar
Give a tug on his pull-string, and Woody speaks up with lots of cowboy phrases.
Goes great with Jessie and Buzz Lightyear Sold seperatly.
Your favorite character from toy story comes to life with a cowboy hat and a rootin tootin guitar.
Pros
Very similar to the movie
Comes with guitar as bonus
says more quotes not in the movie
Andy is a the bottom of his foot
Woody's body is right movie shape and size.
Cons
Has a few flaws
hat makes him heavy
stomatch is over stuffed
mouth is open
pull string is large
His vest is almost unstiched.
The hat is not hand stiched just plastic.
---