Mr. Potato Head is a mean, rude and judgmental Potato who is a classic toy, a part of Andy's collection.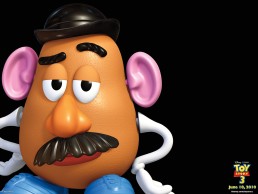 Mr. Potato Head
Edit
A potato who is friends with Woody and the gang and is now owned by Bonnie. He makes some jokes and plays around every now and again, but stays a little pessimistic toward some of Woody's ideas from time to time as well. Mr. Potato Head, in some of Andy's adventures for the kids is usually a villain as shown in both Toy Story 1 and Toy Story 3. In all three films, he bursts into pieces and picks himself up using the arms that have been severed.
In Toy Story 2, Mr. Potato Head, while in the Pizza Planet delivery car, saves some of the aliens toys that there and they begin to say that "he has saved their lives and they are eternally grateful". In Toy Story 3, it is shown that he and Mrs. Potato head decided to parent the aliens.
"Mr. Potato Head is a wisecracking, hot-headed spud, complete with angry eyes. He's the eternal pessimist with a tough plastic exterior, but his total devotion to his "sweet potato," Mrs.Potato head, reveals a softer side."
Family: Andy's family,Andy's toys,Bonnie's family,Bonnie's toys
Friends: Sunny side daycare toys
Full Name: Mr. Potato Head
Love Intrest: Mrs.Potato head
Kids: 3 Aliens
Debut: Toy Story
Potrayed by: Don Rickles
Occupation: Andy's toy, Father
Home: Andy's house, Bonnie's house
Likes: Being with Mrs.Potato head
Dislikes: Being wrong
Nicknames: Potato head
Where now: Living with Bonnie
Partners: Mrs.Potato head,Hamm
Kind of toy: Mr.Potato head
Appearances
Edit
Toy Story
Toy Story 2
Toy Story 3
Head: Black Bowler hat
Torso: Body
Legs: Blue shoes.
Mouth:Lips.
Eye:Eyes & Eyebrows.
Nose:Nose & Mustache.
Hands:Arms.
Ears:Ears.